Becoming a certified Open Water Diver is an incredible moment in the life of a scuba diver. You can dive without the supervision of an instructor and you are free to discover the underwater world on your own.
However, this does not mean that you have finished learning all there is to learn about diving. In fact, you have only just begun! Many open water divers make the mistake of assuming that they know everything they need to be a good diver, when they couldn't be further from the truth, and that mentality can be dangerous both to you, and to other divers.
So we have come up with our top tips for Open Water Divers on how to improve your diving skills, directly from our instructors here at Dune Mexico Blue Dream.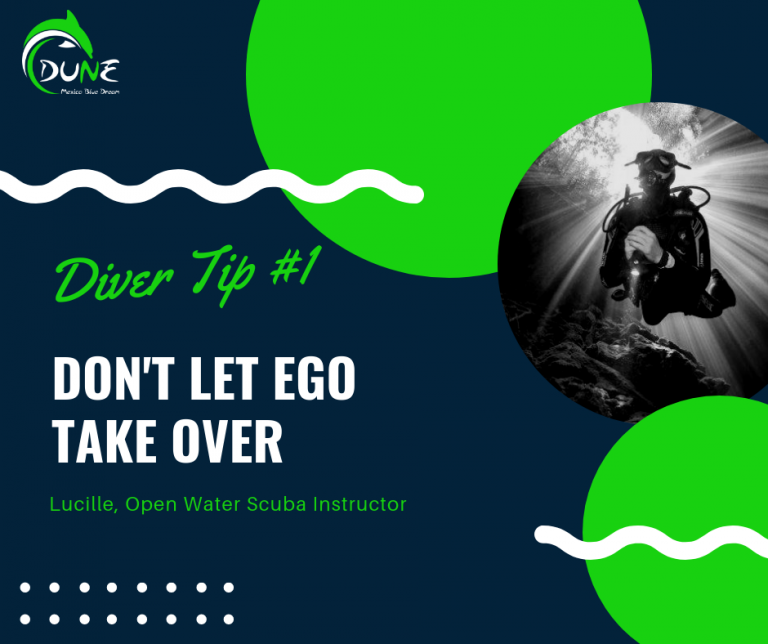 Don't let ego take over
Many experienced divers talk a lot about all the dives they have made, the places they have been and the equipment they use. Often these big words don't reflect their diving ability. Although you are certified to dive on your own, guides and Divemasters have a wealth of knowledge of both diving and the local area. If you decide to dive with a guide, listen to their advice, follow them for the best sightings of local marine life and if you're in a large group, make their life easier and stay within visibility.
Lucille – Open Water Scuba Instructor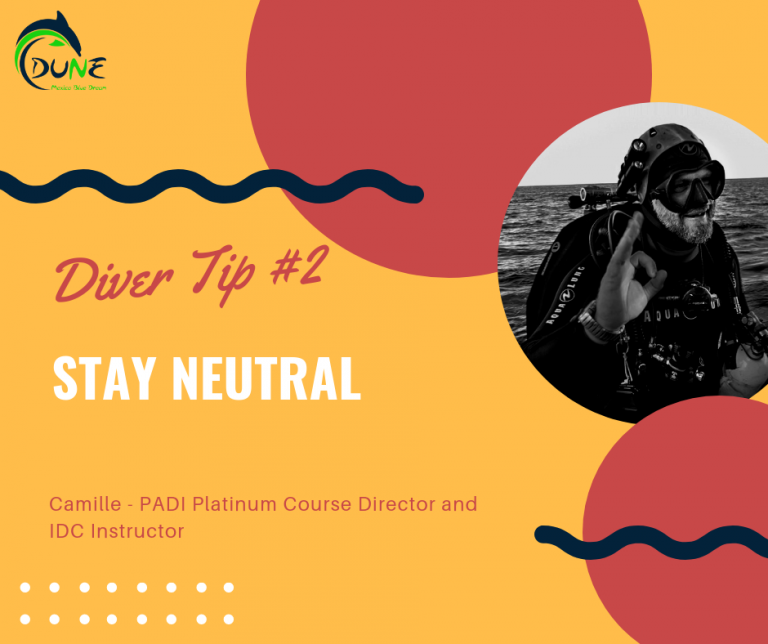 Stay neutral
The main aim of scuba diving is to remain neutrally buoyant, meaning you neither float nor sink in the water. Open water divers should work a lot on this to begin with it's a skills we keep working on with every dive, because neutral buoyancy helps with multiple aspects of your diving. You will improve your air consumption by not adding and removing air from your BCD, you will conserve your energy because you will not be struggling to stay up or down. You will protect the environment by staying the right distance from the reefs and animals, and you will be free to focus on the beautiful surroundings, spot more sea life, take photos and much more. Practise adapting your buoyancy through adding and removing air primarily using your lungs, not your BCD. Completing the peak performance buoyancy specialty certification is a great way of sharpening those skills and it is one of the most useful specialities an Open Water diver can do. The exercises are challenging but lots of fun and at the end, you'll have much greater control over your movement in the water.
Camille – PADI Platinum Course Director and IDC Instructor.
Find out more about the Peak Performance Buoyancy specialty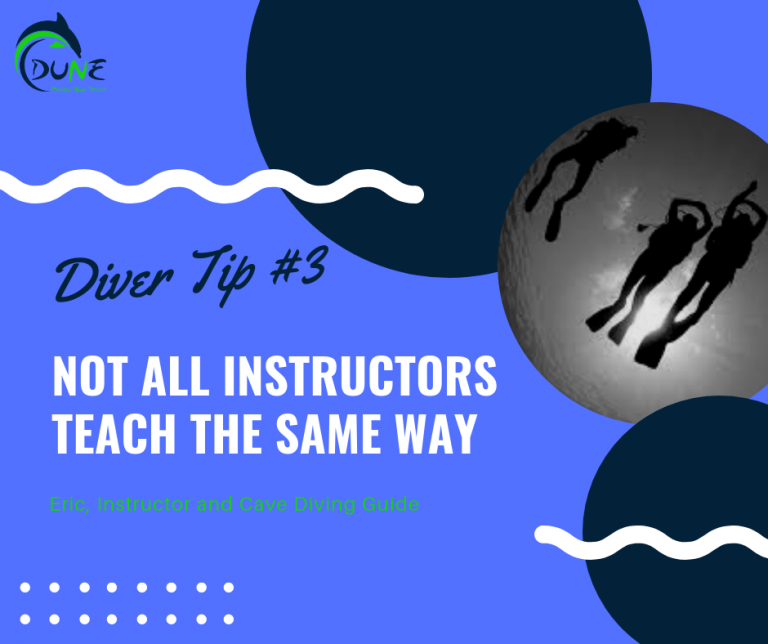 Not all instructors teach the same way
You learn to implicitly trust your Open Water instructor when you are first certified, after all they are the person who got you into the water and taught you everything you needed to become certified. However many divers make the mistake of dogmatically listening to every technique of that instructor, they take their first instructor's word as the bible and close their ears to the advice of others. There are some amazing instructors out there, but not all, so take points of view from multiple places. Instructors come from all backgrounds and also from different diving certification agencies, so each has their own style of diving and of teaching. When you dive with a new instructor, embrace the opportunity to learn a new technique.
Eric, Instructor & Cave Diving Guide
Be alert and aware of everything
My advice is to constantly be alert under and above the water. Be aware of your surroundings and look carefully everywhere you go. I see a lot of divers that rush through their dive like it's a race or as though there might something more interesting up ahead, and they miss some really amazing life right where they were because they didn't just take the time to look around. As a dive guide, many people ask me how I manage to spot so many creatures and critters hidden under rocks or between corals. The secret is just to stop, look and be aware! Don't rush, move slowly, look around and absorb everything around you. Don't forget that you are diving as a team, take note at all times where your buddy and others are in your team and keep eye contact with them every few seconds and watch their body language. Practise mindfulness in the water and you will be surprised with how much more you notice in the dive site than you ever did before.
Al, Divemaster
Protect the ocean for the future
As you dive more, you will begin to notice how much damage is being done to our world's waterways. That's why as certified divers, we become advocates for the conservation of the ocean. Do you part to protect the oceans, reefs and animal life where you dive. In the water, work on your buoyancy so you are not damaging reefs, ensure your equipment is not hanging and dragging beneath you, and if you see a foreign object during a dive, pick it up, take it up after the dive and put it in the trash where it belongs. Above the water, set a good example for others that may not see the effect of their actions under the water. Take care of where you throw your rubbish, try to limit how much plastic you consume, and help to advise the public about ocean conservation. You can also contribute to educating others by furthering your diving education and completing the AWARE Fish Identification or Coral Conservation Specialties.
Eduardo, Operations Manager & Instructor
Ask us about our AWARE Conservation specialty Certifications.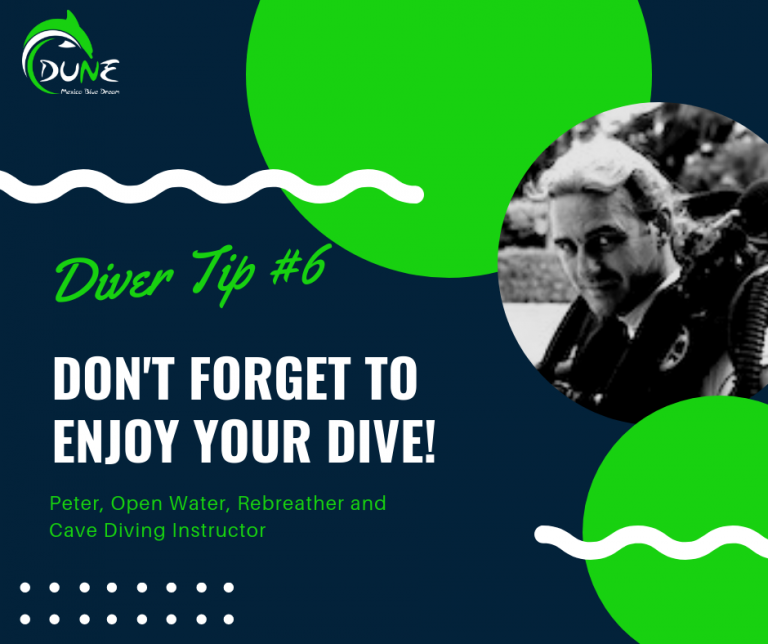 Don't forget to ENJOY your dive
When we begin diving more, enrolling in more specialties and honing our skills, we put a lot of focus in learning, enhancing our abilities and expanding our skill portfolio. But it's important that you never forget the reason why you started diving – because you ENJOY it. We know that there's a lot to remember during a dive – you need to be alert, remember everything you learnt in your courses and practise your abilities so they don't get rusty. If you are a dive guide or instructor, you may have dived the same site 500 times, which can lead to complacency. Either way, it's important that you stop, take a moment and remember where you are and what you are doing – and that it's one of the most amazing feelings in the world to be underwater. Never forget to enjoy it and to keep your passion alive.
Peter, Open Water & Rebreather Instructor & Cave Diver