Training of our team in first aid
Safety is a priority for us, which is why we have trained our entire team in first aid. All members of the Dune Playa team have completed a first aid course run by a health professional.
From the PADI instructors, to the sailors, to the captain and even our driver, all members are trained in first aid and are able to intervene in different types of situations. This training is also renewed every 6 months in order to revise the acquired knowledge.
Oxygen and first aid kit
In order to ensure optimal safety, we take a complete first aid kit with us on the boat, checked by a qualified nurse. We are never safe from a little boo-boo 😉
Our kit is stored in a waterproof box to avoid contact with moisture and splashes and to preserve the quality of its contents. It is also maintained and renewed every 6 months.

We also carry a full oxygen tank in case of a diving accident, also stored in a waterproof case, which is checked on each departure, to provide extra security for our clients.
Hyperbaric Chamber
The safety of our divers is our first concern at Dune Playa Del Carmen. One detail we have not forgotten is access to a recompression chamber. The modern hyperbaric chamber in Playa Del Carmen is based 5 minutes from our dive centre and the beach. This facility is monitored 24 hours a day, all year round, by a team of qualified and experienced medical staff. Dune Playa Del Carmen is a member of the hyperbaric chamber and therefore you have full access to the highest quality medical staff. We hope we never have to use them!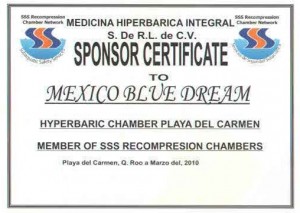 In addition to selling our diving packages, training courses and excursions, we offer full support to our clients.
All of our professional staff have been trained in the hyperbaric chamber. They know how to administer first aid, oxygen therapy and all the steps to follow in the event of a decompression accident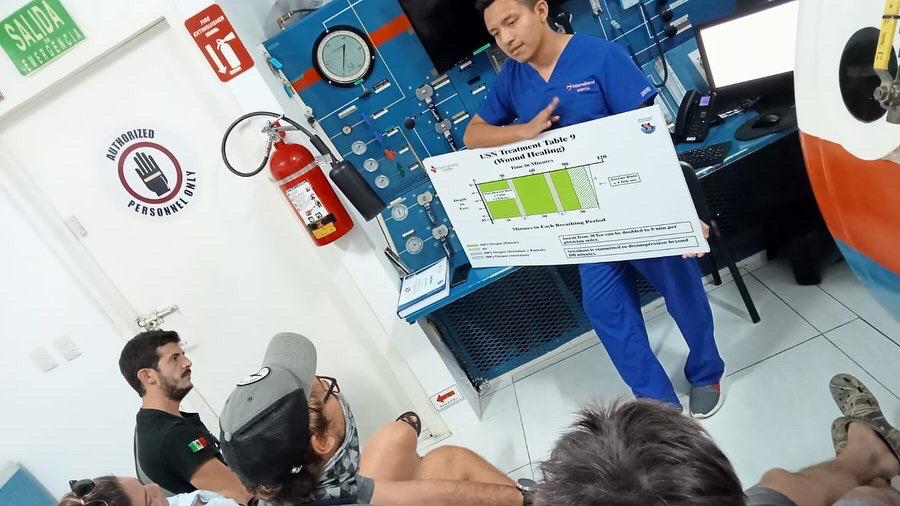 Insurance
All our instructors are insured by the DAN insurance, which covers our entire diving center.
We also have public and professional liability insurance that covers any damage up to $1,000,000 USD
Of course we hope that nothing will happen, because we do everything upstream to avoid any accident. Our entire team works within the rules and in safety, never exceeding the limits. Prevention, respect for safety rules and good judgement are the keys to ensuring that no accidents occur.