Our facilities are designed to meet the divers needs.
Welcome to Dune in Playa del Carmen…!!!
We are happy to welcome you to our dive center, located in the heart of one of the most authentic areas of Playa del Carmen…
Once past the large wooden gate, you can enjoy the freshness of our tropical garden, far from the noise and frenzy of the tourist center.
Our team of passionate professionals will be happy to share with you their love and knowledge of the underwater environment and the Yucatan Peninsula.
Come and enjoy the family and relaxed atmosphere of Dune Playa del Carmen for your next diving trip and let us guide you to the best diving experiences we can offer in the area…
Come as a guest, leave as a friend…
*** PADI 5 Star IDC Center ***
Dune Playa Del Carmen was built FOR divers, BY divers.
Our dive center has everything you'd expect from a PADI 5-star IDC facility, and so much more.
Mexico Blue Dream is a full-service facility with modern boats, rental gear, dive shop, gear rinse and storage, lockers, a spacious classroom for courses, and an equipment maintenance and repair center.
Safety, Comfort, Service
The most convenient land-based dive operation
A modern, quiet, comfortable, covered dive boats
Personal gear storage area
Top-of-the-line rental gear
Air-conditioned classroom and facilities
NITROX available
Washing bac for equipment
15L bottle available
Shower on site
Convivial and spacious place
View our dive shop
Comfortable, Quiet, Modern Boats
Our Dune Playa Del Carmen center has particularly spacious and comfortable boats by local standards. Our fast, modern, twin-engine dive boats, which are 33 feet in size, allow us to meet all individual needs, from private charters to fun group trips.
Our Lady Claire boats were completely refurbished in November 2022. It has plenty of space for divers or snorkelers, bottle racks, bench seats, a sunroof and a ladder on the side. They are equipped with the necessary safety equipment according to national and international standards. This includes oxygen, a maintained first aid kit, VHF marine radios, life jackets and navigation equipment.
Our very experienced and friendly crew will take you safely and comfortably to the best dive sites. Our Captain Vicente always has a smile on his face and knows the Caribbean Sea like no other…
The boat leave twice a day, at 8:30 in the morning and at 13:00 in the afternoon. We do two-tank dives. We also offer night dives. It takes between 5 and 25 minutes to reach the dive sites.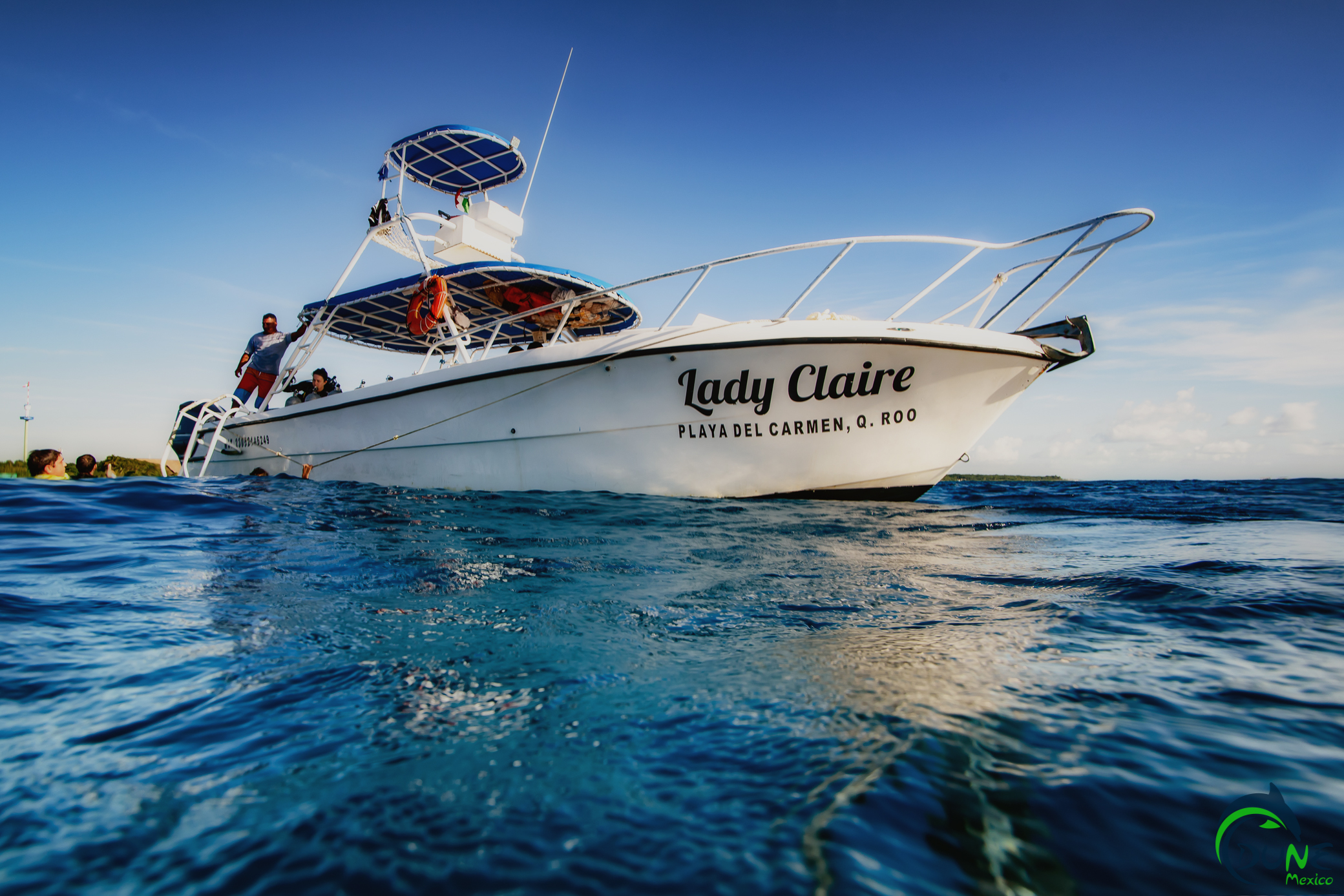 Fresh-water Rinse Tanks & Drying Area
The dive center is equipped with two large fresh water rinse tanks (one for dive gear and one dedicated for regs, computers and cameras only). Adjacent to the rinse tanks is a fresh water shower to rinse the salt off of your skin and a drying area to hang your gear to dry.Wet Room
Your valuable dive equipment is safe in our large and spacious dry room. This dedicated storage area is well ventilated so that your gear can dry before your departure. Our personnel keep a watchful eye on your equipment.
Tanks and Rental Equipment
Our tanks and rental equipment are up to the same high standards. We don't like rusty, banged-up tanks and gear that's falling apart, so we use nothing but the best.
We have our own 80 cubic ft / 12 ltr. aluminum tanks. True to the Dune philosophy of "safety first", all cylinders are tested in accordance with international cylinder testing guidelines. Regular valve servicing and visual inspections are just a few of the rigorous in house test procedures that equipment must go through. Hydrostatic testing are conducted out of house by an international accredited inspection company. All tanks can be used as DIN/INT connections.
Nitrox is Available
We offer Nitrox diving, a great way to go since most of the diving here is ideal for Nitrox. If you would like to try but lack Nitrox certification, we offer the PADI Enriched Air Diver course.
Classroom
Plan on learning scuba diving? Dune Playa Del Carmen dive center is one of the few dive shops in Playa Del Carmen which offers a real classroom 'on-site' and with air-conditioning. We offer the most fun, exciting and convenient learning environment. As a PADI 5-Star IDC Center, we teach the full range of PADI courses up to IDC Staff Instructor level. Our courses are designed to make learning enjoyable and worthwhile.
Reception
Dune Playa Del Carmen Dive Center is open all year round. Monday to Monday from 7:30 am until 6 pm. You will always find one of our competent and friendly staff to answer all your questions. These opening hours allow the upmost flexibility for reservations so you don't miss any valuable dive time.
At the reception desk guests can check in, receive all forms they need as well as competent advice in case they have any questions.